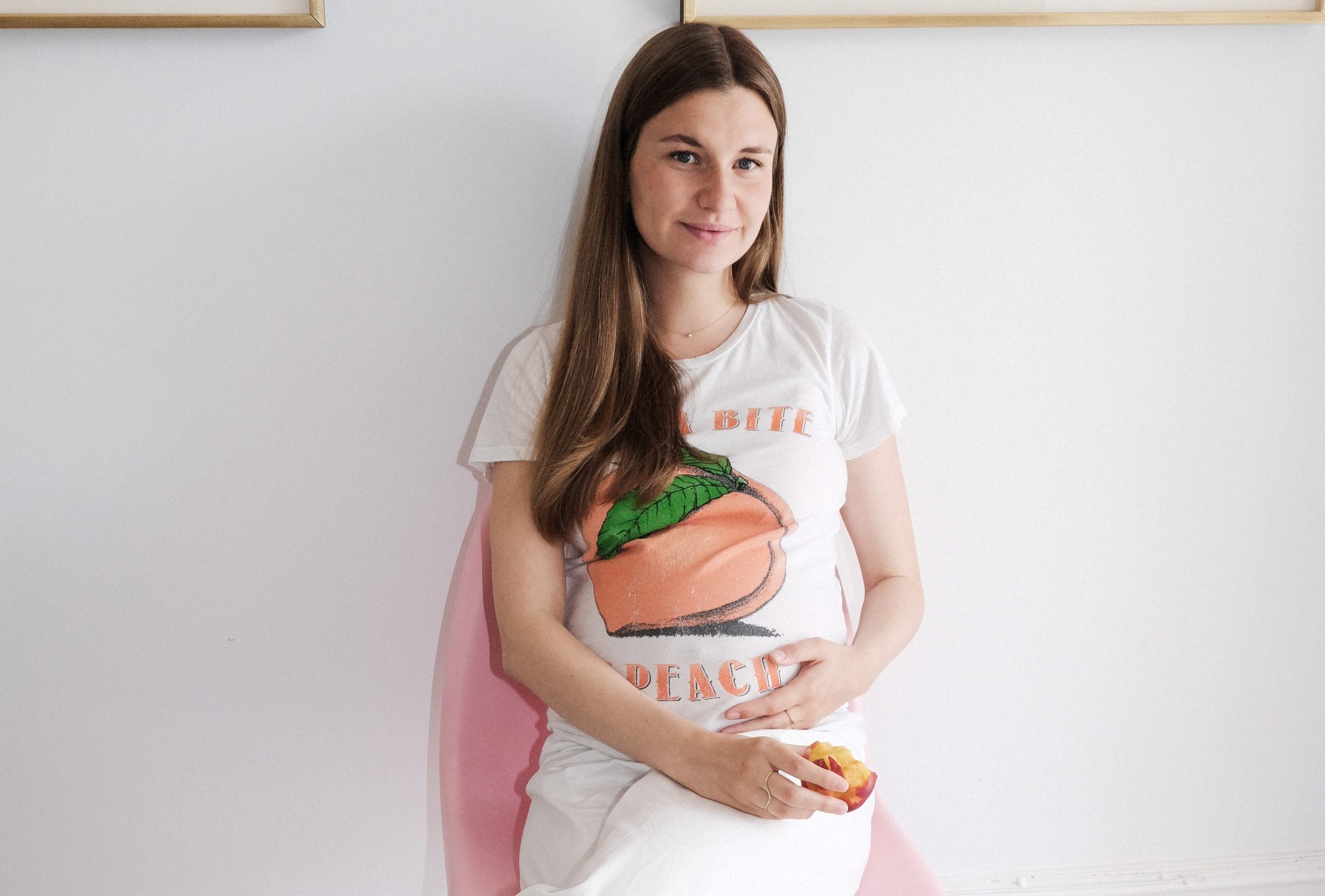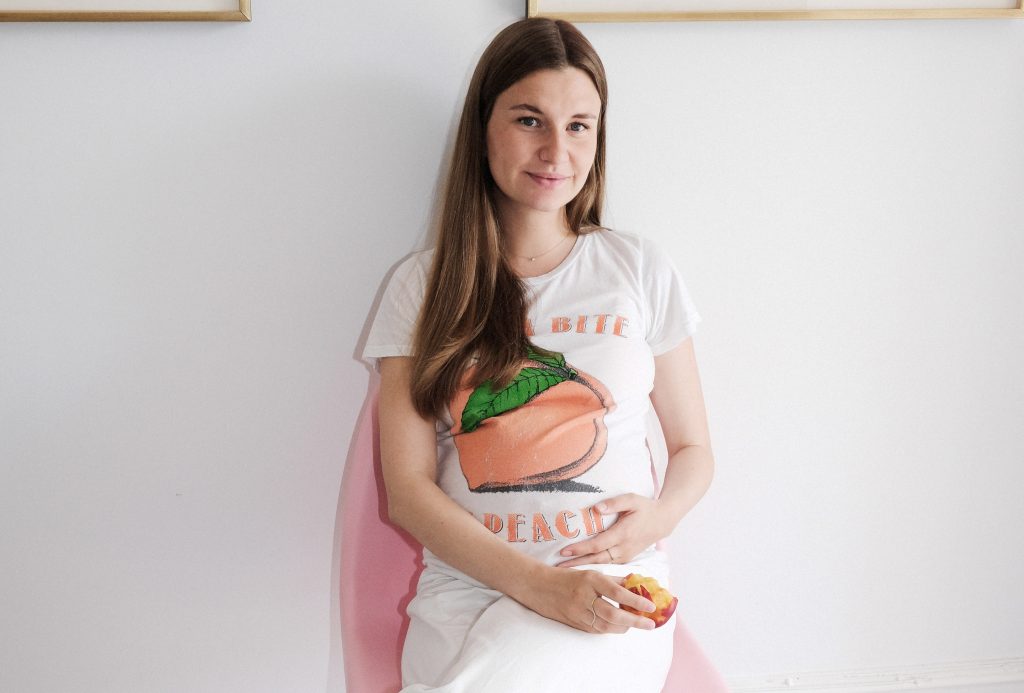 Annsophie Stoltenberg Roest: Letting go of control
november 7, 2019
First published in Danish on 6 August 2019.
Only when Annsophie let go of the control she thought she had on her life did two lines appear on a pregnancy test. Just weeks away from her due date and strutting her belly proudly, we met her in her cosy Copenhagen apartment to discuss her impending motherhood.
How did you find out you were pregnant?
"My boyfriend and I had talked about wanting a baby for a while. Back in May, I made a doctor's appointment to have my IUD removed, but it didn't happen until August. We spent the summer daydreaming about having a baby and what it would feel like to see the two lines on a pregnancy test. I had my coil removed in late summer and initially took pregnancy tests every two weeks after sex, but it started to stress me out and I was getting impatient so decided to only take a test if I actually had the symptoms of pregnancy.
Friends were telling me that I'd get pregnant instantly, but I hadn't had a period since my coil was fitted and it wasn't until two months after its removal that my menstrual cycle stabilised. I downloaded an app to help me determine when I was ovulating but ended up buying an ovulation test as the app just didn't work for me. My mind was racing all the time, so I knew I had to take a different approach. I let go of the controls and started to listen to my body, looking for the signs I was ovulating. And then it happened. Just before Christmas I had an inkling that I was probably pregnant. I took a test just before going to work. When I saw it was positive, I had a hot flush and my face turned bright red! My boyfriend drove me to work that day, so we only had a few minutes to celebrate the news before he dropped me off."
Describe your pregnancy so far.
"I had really bad morning sickness the first trimester. I had no appetite and a constant guilty conscience about the fact that I simply couldn't seem to eat healthy—or anything at all, in fact. I raked up about 20 hours of sleep a day. Morning sickness was really tough but also a consolation in a strange way, as I knew my body was working hard at making my baby grow.
I never imagined I'd be as worried as I was. I've had feelings of dread for a long time—that something bad would happen or I'd have a traumatic labour. I haven't shared my thoughts with anyone other than my boyfriend as pregnancy is such a private journey. When I did finally tell my friends, it was pretty daunting, which was probably down to a combination of actually saying the words out loud and admitting to what I was feeling and thinking. I became nervous when I posted on Instagram at week 22; like I was jinxing my pregnancy. Now I'm much more relaxed about it all and I can feel our baby kicking, which calms me too."
How do you feel about your pregnant body?
"I'm really proud of my belly and love to strut it. It's so cute and round. I'm just so proud to be able to carry our child. My body hasn't changed that much, so I still feel like me—and I'm pretty relaxed about the whole thing. My boyfriend and I have laughed a lot about the change in my nipples as they prepare to breastfeed. It's amazing what the female body can do, and I think it's important to have self-irony and just relax and laugh at the changes a pregnant body undergoes."
What have you missed most during your pregnancy?
"Time. I've really felt the urge to take care of myself, to nest and gear down. After a long day at work, I'd come home so tired that I'd end up napping before dinner and going straight to bed after eating. One day took the next. Time went by so quickly and for a long time I felt that I didn't listen to the signals my body and my baby were sending me. To top it all off, I was pregnant on Christmas Eve and could only manage to eat a tiny portion of Christmas dinner. That was sad!"
Describe your personal style and how it's changed during your pregnancy.
"I love print and colour but am a minimalist at heart. In fact, I really love black clothes—I just don't have enough of them. My style has become more casual and I don't curate my outfits as much as I usually do."
What was the first piece of maternity wear you bought?
"I haven't actually bought a single item of maternity clothing. I picked up a sports bra in Arket around the beginning of my second trimester, but quickly grew out of it. Now I only wear Sloggi underwear; it's like a second skin."
Which item has been your go-to?
"Pyjamas from Milsted and Ficus Folium. They're so soft. Milsted uses only the finest fabrics and colours and even though it just a pair of pyjamas, you still feel well-dressed."
Which footwear has carried you through pregnancy?
"The ones I already had in my closet. I probably should have bought a pair of good trainers. Perhaps I will when I go on maternity leave and spend my days pushing a pram…"
Have you been active during pregnancy?
"The right answer would probably be to say yes, but in truth I've been lazy. Before falling pregnant I went to reformer twice a week but stopped when morning sickness set in. I've bought a bike and cycle everywhere. I love the feeling of freedom I get biking around the city at 36 weeks pregnant, especially as taking a short walk makes my legs ache."
Has your beauty regimen changed at all?
"My regular beauty routine has always been pretty labour intensive. I really enjoy the ritual. I use clean products, so haven't needed to make any changes to the ones I use. Tromborg and Amazing Space are two favourite brands. Their products have a spa-like scent, are free from nasties and super effective. I also use Karmameju's dry brush; it's been a life saver these past weeks with aching calves and sore feet."
Have you taken any supplements?
"When I found out I was pregnant I started taking "Baby me now" from Solaray. I've always been petite and had to have some blood tests done in early pregnancy because of a low BMI. I initially felt like they thought I was starving myself but came to appreciate the extra care I was being given— plus, I wanted to know if something was wrong. Everything was fine, but I've taken supplements regularly since: calcium, magnesium and iron-enriched multivitamins from Solaray and probiotics from Bio-Kult. My boyfriend and I eat incredibly healthy, starting the day with freshly squeezed vegetable juice, but I've also enjoyed Social Foodies ice cream, lots of dark chocolate and a croissant on Sunday mornings. I've listened to my body a lot and if I've had a craving, I've eaten what I've been hungry for. "
How have you prepared for labour and what are your thoughts about it?
"I'm feeling pretty relaxed about it as I trust my body. I'm really looking forward to having this experience with my boyfriend, Alecs: I know he will be the best birth partner. I've read a lot of birth stories, so I feel well informed about all the stages of labour as well as pain relief options. I'd like to have a natural birth but will take it as it comes. The most important thing is for me to be mentally present.
I've attended a private prenatal class with midwife Heidi Meyer, who works at Herlev Hospital where I plan to give birth. It's primarily the birth partner who is taught the Meyer method in order to help support the woman during labour, by applying deep pressure to the forehead and all the way down the body. We've only been there once and have two more appointments before I'm due."
How do you imagine the first few weeks with a new baby?
"I've made a mental note of other people's experiences in the first weeks and it seems that most regret having too many visitors. Our plan is for it to be just the three of us for the first two weeks. Then I plan on taking him to an osteopath to get straightened up after the birth."
Text Bea Fagerholt Photo Liv Winther
Adapted and translated into English by Hero Agency.
MEET'N'GREET
Annsophie Stoltenberg Roest, 27, is expecting her first child—a boy—this August, together with her partner of almost seven years. When she's not on maternity leave, she works as the fashion editor of the Danish magazine Eurowoman.