Caroline Bille Brahe "I found out I was pregnant two days after my wedding." 
februar 10, 2019
In a month and a half one of Denmark's top models, newly-wed 25-year old Caroline Bille Brahe is expecting her first child. Caroline opens the door to her charming duplex flat where she lives with her husband Frederik and the dog Skat. She laughs and says that we are lucky to be let in, because she really doesn't like having her photo taken at this point in her pregnancy.
How did you find out you were pregnant?
"It was in the lead-up to my wedding when I started getting the feeling that I might be pregnant. But I wasn't far enough to be able to take a test. I decided to try to ignore it as much as possible until after the wedding. I had my suspicions when I was working out and I wasn't able to run as much as a metre – I usually run 10-12 km in an hour. But it could also have been because of my jetlag as we had just arrived back from holiday. So I kept going backwards and forwards in my head. I had recently become pregnant, but I miscarried in the 6th week, so I thought my periods could just be irregular as well. I was really upset about the miscarriage. At the same time it increased my wish for having a baby. I've always known I wanted to have children and especially when I met Frederik. I think it happens automatically when you meet the person you want to spend the rest of your life with. Two days after our wedding we did a pregnancy test. The line was very faint so I took a million tests during the following days until the line became completely clear. I had an early scan where we could see a heartbeat and that the baby was inside the womb. That gave us a feeling of security, but I was quite nervous until we had put the nuchal translucency scan behind us."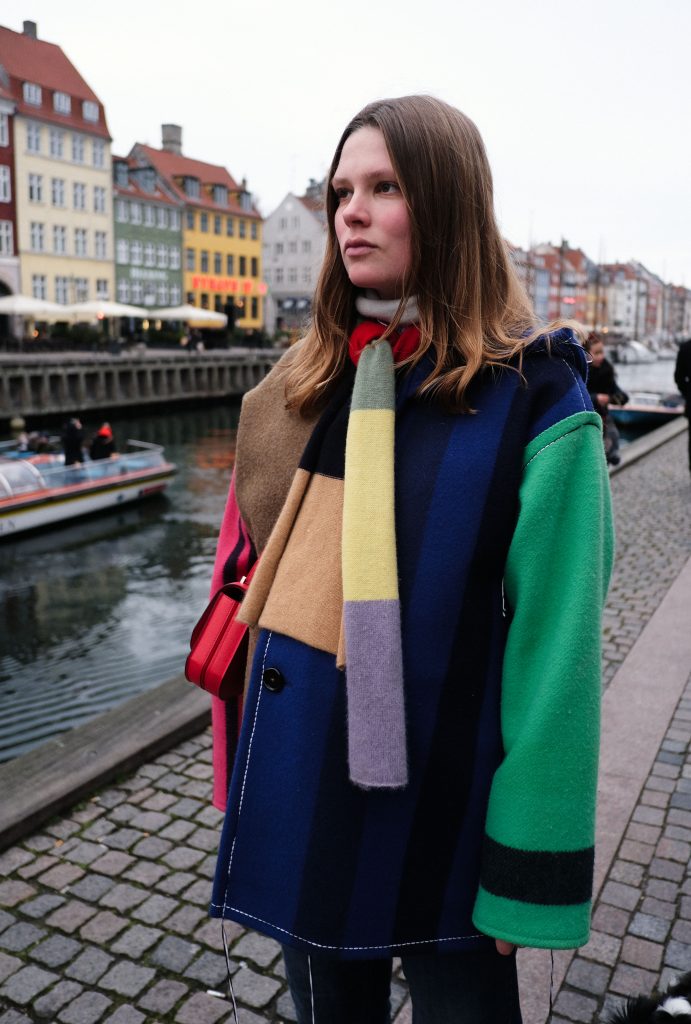 How would you describe your pregnancy?
"I was sick for 4 months. Before I became pregnant I ate a lot of vegetables and thought about my figure, but now vegetables are almost the only food I don't feel like. Right at the beginning, I craved bagels and Thai food, but now I eat normally. Frederik is great at making me wonderful food." 
How do you feel about your pregnant body?
"I only think getting bigger is a natural part of being pregnant. I really like my tummy but I'm aware that I find it difficult to put on weight on the rest of my body.  Sometimes I feel really large and as if my cheeks are about to explode, haha. I will probably gain 25kg but when I've given birth I'll lose them again." 
What are you missing the most during your pregnancy?
"I've missed being able to work. Frederik and I had a job in New York for Tiffany's new perfume when I was 4 months gone. The last job I did was for Zara's maternity wear collection. I wasn't so keen on being prohotographed at that point. I have worked as a model for more than 10 years and have always been very conscious of my body. Now when I've been on a shoot, I suddenly become very body conscious again, just as I was before. I don't want to stress myself in that way while I'm expecting." 
Tell us about your other job, your vintage store?
 "I've always been a huge shopper and I love to spend hours online looking at clothes and accessories. I've travelled the world and I've always explored the various vintage stores. The result has been that I acquired a rather absurd collection of clothes so I thought, why not make a business out of it? That's why I started CBN Vintage where I both sell via Instagram and by appointment in my showroom."  
What are your plans for the time after the birth?
 "When I've given birth I will, of course, be at home spending a lot of time together with Sonya getting to know her. I want to ease into motherhood quietly. Hopefully, I can combine this time with a little work at CBN Vintage. When I have lost the baby weight and am on top of things again, the plan is that I will continue travelling to some modelling jobs abroad. Either Frederik or my mum will be able to come along and take care of the baby. But I'll see how it goes. It's also quite possible that the only thing I want to do is to stay at home with her for a good while. It's my first baby and I'll have to listen to her needs, how I'm doing myself and what I feel like doing. Consequently, I haven't made too many plans." 
How have you prepared for the birth and what are your thoughts?
 "All along, I've thought I would start antenatal classes when I was 8 months pregnant. That's in 2 weeks. I didn't like doing it too early. Sonya hasn't turned yet, and I have a partition in my womb which may be the reason why she's not lying head down. So it may be that I will end up having a caesarean. I'd prefer to give birth naturally, but it's out of my control – if it's not possible for her to turn I will have to have a caesarean. I am very calm about it, and I've never really thought that far into the future. I can't even make an appointment with a girlfriend next week. Since I was 15, I've never known what I would be doing the day after – if I'm off to New York, well, I'll do that. So I am absolutely fine with not knowing what's going to happen." 
What was the first item of maternity wear you bought?
 "I never thought it would happen, but I've bought a pair of maternity jeans from Enula9." 
How would you describe your personal style?
 " Normally, I never wear tight clothes, but I have done during my pregnancy. I actually think you look bigger in loose clothes. My friend Amalie (LINK) tipped me off about Saks Potts' leopard trousers so I have several piles of those. I think it's difficult to have a particular style just now because clothes just hang completely differently. I don't care as much about what I'm wearing now, and that was never the case before. I'm mostly concerned with it being comfortable, t-shirts, a jumper, and my leopard trousers from Saks Potts." 
Which shoes have carried you around during your pregnancy?
 "Trainers or my Celine wellies which are really comfortable." 
Have you been doing any exercise while you've been pregnant?
 "I've not felt like working out while I've been pregnant, but I do miss going for a run in the morning. On the other hand, I've been going for loads of walks which I've always enjoyed. I've had to listen to my body and have been good at resting when I've been tired and I have avoided overexertion." 
Have your beauty routines changed during your pregnancy?
 "I've never really used makeup. I use a body oil from Buly and for my face I use Fabulous Oil from Aesop. I've had a lot of tension headaches during my pregnancy so I've been having a massage once a week. That's been really good. My masseuse Sidsel does an all-body massage where I'm lying on my side, and it's been lovely to become completely relaxed." 
What consideration have you had with regard to food and supplements during your pregnancy?
 "I take vitamin D, multivitamins and iron."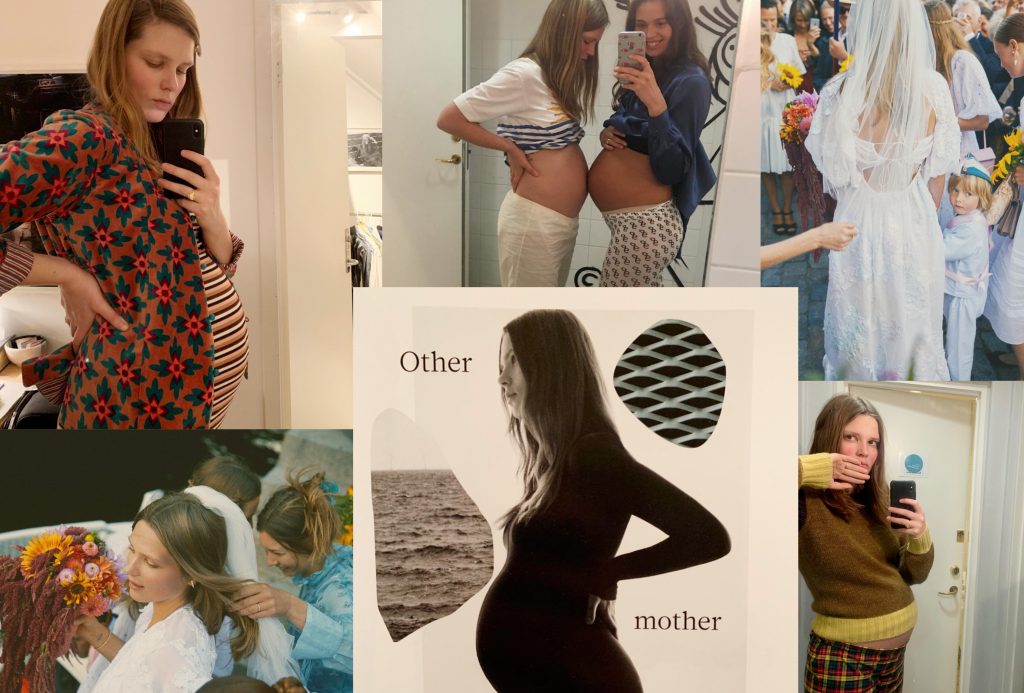 Who have you been able to ask for advice while you've been pregnant?
 "My friend Amalie, who gave birth in November, and my husband's aunt who also scans at Rigshospitalet. I like speaking to people and listening to their experiences rather than reading a lot of books. I always end up asking the people I know about their experiences of having children." 
 Words Bea Fagerholt Photography Liv Winther
MEET 'N' GREET
Caroline Bille Brahe, 25, has her due date on the 22nd of April. She is expecting a girl with her husband, the chef Frederik Bille Brahe. Caroline started her modelling career at 15, and for the last 10 years she has worked for the largest international fashion houses such as Chanel, Céline, Balenciaga, Prada and Louis Vuitton.
Follow Caroline Bille Brahe
 @Caroline_brasch