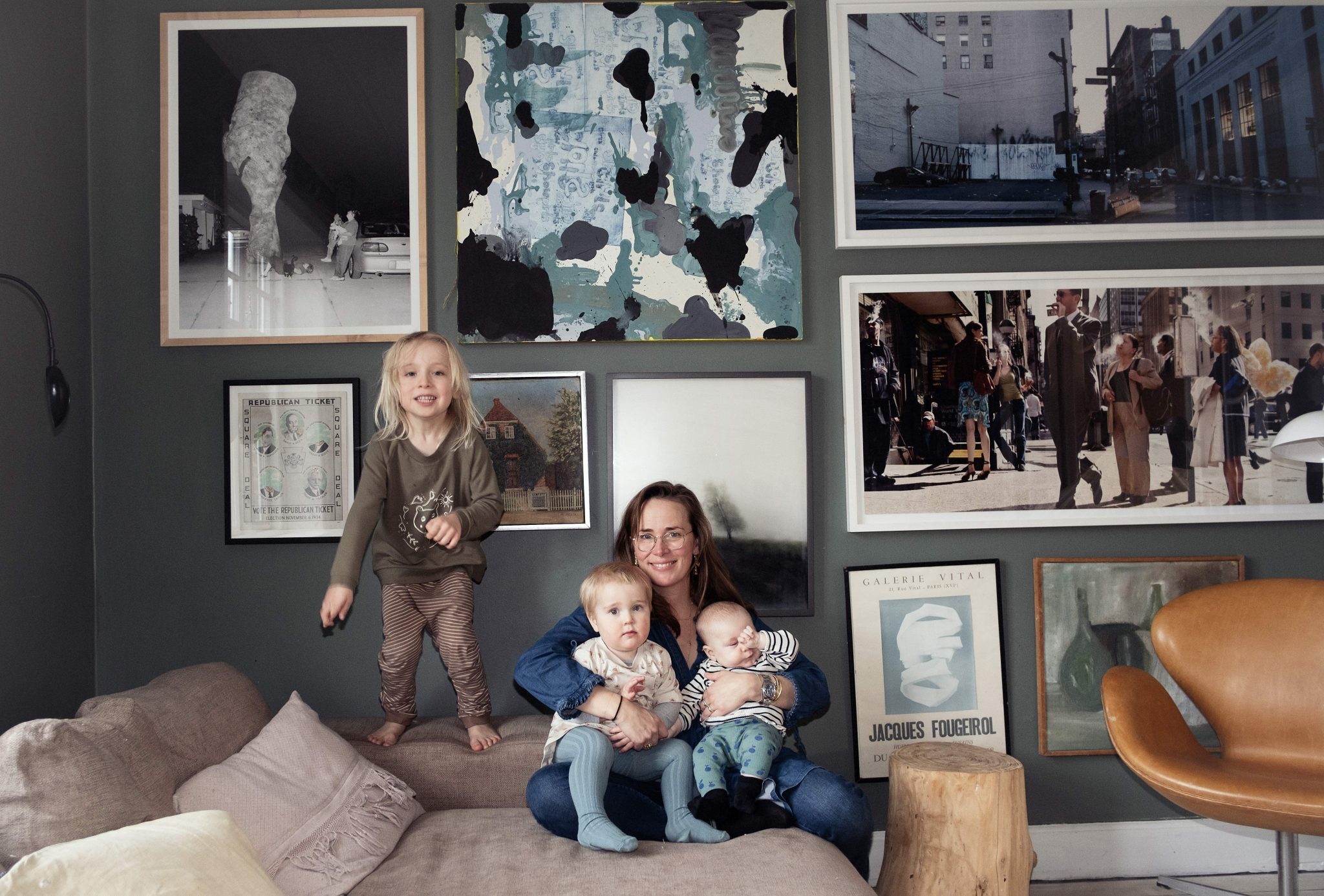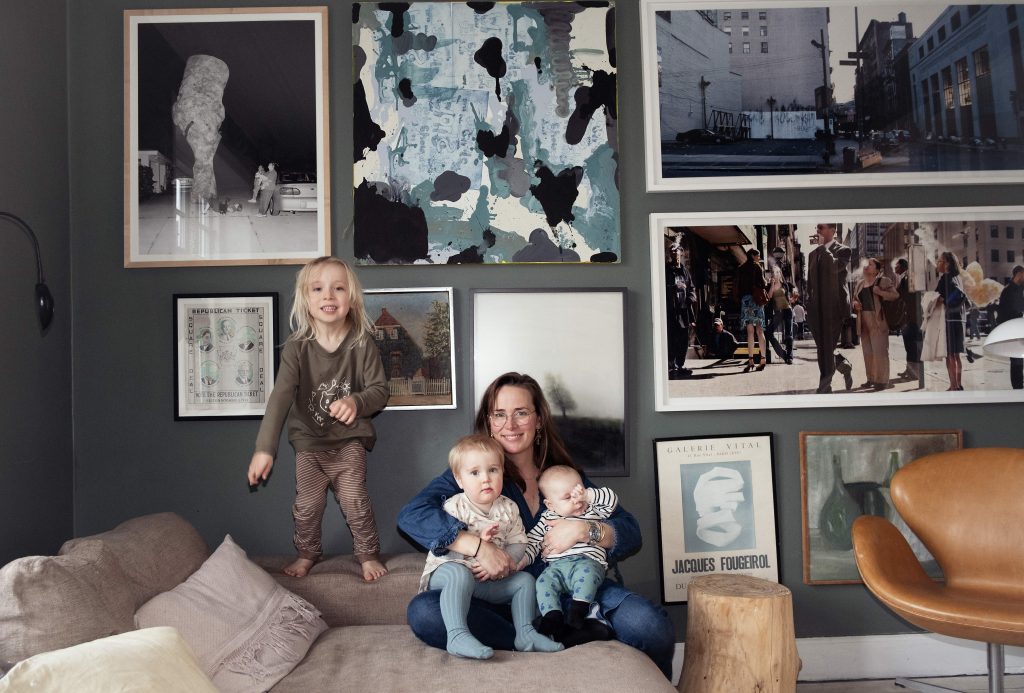 "Every time I make a book with Gwyneth, I get pregnant."
marts 25, 2019
She has travelled the world as a photographer for the leading interior, food and travel magazines, and she has also been part of the world renowned restaurant Noma's journey right from the beginning. Ditte Isager, 42, has also worked closely together with the actress and founder of the lifestyle site Goop, Gwyneth Paltrow. Ditte has three children with her husband Christian.
We meet Ditte Isager at her house in Brønshøj, Copenhagen. Photo art and paintings decorate the muted and definitely carefully chosen colours on the walls. Because Ditte has amazing taste and an unusually good eye. Ditte comments that she is tired as the family of four always ends up sleeping all together in one bed during the night. We quickly get chatting about births while Ditte makes coffee in her cabinet maker kitchen. She unwraps cakes from WinterSpring which were hurriedly bought when she was at the doctor's in town with her 3-month old baby, Ziggy, earlier in the day.
"I didn't grow up in a gastronomical home and I was very picky as a child. We lived in a double house with my grand parents and they were making traditional Danish food while my mother were more into meatballs made of vegetables. It was two houses with very different kitchens. While I was training to become a photographer, I met Signe Wenneberg and I told her I'd like to photograph a crayfish party. She suggested we did it with Claus Meyer and so we did. Later on Claus asked me to shoot his next cookery book. I was 25 years old and hardly fully trained. I met René (Redzepi, ed.) through Claus, and they are the ones who have influenced me the most foodwise.
Along on the Noma journey
Everyone laughed a bit at this new restaurant, Noma, they were about to open. No one believed in the Nordic kitchen. Claus asked if I could help with the photos for their homepage, and then René would like to write a small cookery book which was published by Politikens Forlag. René cooked the food and did the washing up. It was a totally low key small shoot, nobody could have guessed what would become of Noma. The year after René was nominated for the '50 Best Restaurant List'. I was living in London and he asked if I'd like to come to the party which took place in Copenhagen. Afterwards, it all exploded. I shot the next cookery book and when it was published Noma went straight to number one. It was probably one of the biggest moments.
René is a fantastic human being. People may have seen him on television and have a lot of prejudice regarding how tough he is. But to go to Noma and experience how extremely nice and pleasant the staff is, that says more about what kind of a person René is. He may be tough, but they all think he's so talented and you really feel the excitement around him. Even when he lived in a small flat in Copenhagen, he invited those of his staff, who didn't have any family in Denmark, home for Christmas. He is a great person in so many ways.
Copenhagen became cool
Copenhagen has become cool and a travel destination. I'm often contacted by people who would like to move here. Copenhagen has really developed and I don't think René gets enough of the credit for that. In my opinion, he has had a greater impact on Copenhagen PR than any other person.
Working with Gwyneth Paltrow
When Gwyneth (Paltrow, ed.) was doing her second cookery book various people recommended me, and now we've finished three books together. I like building a story visually and we do this with Gwyneth's books because they're about both food, people and atmosphere. She lives a very balanced life and the cookery books are, of course, healthy and that lifestyle is catching. Gwyneth is so bloody annoying, she is just stunning. She looks perfect from the moment she gets out of bed. We don't have any makeup artists during the shoots either. I love sweets and sugar and I could eat it all the time, I can buy a bag of Haribo Mix and wolf it down – the yellow winegums too, which I normally don't like. But I also feel sick afterwards. I know how well I feel when I eat healthily, and Gwyneth makes food you feel like making at home. It's delicious and appetising and you feel well from eating it. She has inspired me to live healthily. When I couldn't get pregnant the first time round, I went on quite a strict diet and became pregnant. We joke that every time we've made a book together I get pregnant.
Travelled to L.A.
I brought my husband and children along when I shot Gwyneth's latest cookery book. Two children with jetlag, me working, and Christian catching a vomiting bug as we landed, that was pretty stressful. I scouted on my own with two children. I had to ring Gwyneth's assistant and tell her that I was bringing my kids along to the house. Her team went into a total panic and didn't know what to do. But I couldn't come without my kids and in the end I had to ask if I should call Gwyneth myself to tell her. I knew she wouldn't have the slightest problem with it. When you are at her level in the US, the machinery goes into a tailspin when something unplanned happens. Obviously, it all ended with me bringing the kids along, Gwyneth wasn't even at home, and I knew the staff already so all was just fine.
I hated my first trips to L.A. I always stayed at the Sunset Tower and I thought it was horrendous how people always looked around every time the door opened to see who it was. It was completely ridiculous, and also the waitress who happily came to tell me she had a table for me next to Jennifer Aniston's. But today I love L.A., and I stay in either Santa Monica or Venice where we either stay at a hotel or in an Airbnb. I love the relaxed vibe, the fantastic food and the Farmers Market with fresh produce.
Moved to New York for six years
Twelve years ago, I started getting a lot of customers in New York. My husband Christian and I decided to move there for a year. It became six years. Christian has a company which retouches pictures (Werkstette, ed.) together with two others, and they opened a New York office where he was on his own. We had some fantastic years in the city. I travelled a lot, and sometimes I think Christian was missing a sparring partner. Our years in New York were very much on my terms. It was a difficult decision to move back home, but when I fell pregnant it became an easy decision. We lived in Tribeca and didn't consider having children over there, so we were ready to come home before I gave birth. My husband and I have known each other for 20 years, so we had known each other for 14 years when we had our first child. Careerwise it's not a problem to have moved back. And Copenhagen's status has definitely something to do with that. Of course, there are jobs I don't do because I can't jump at them as easily as if I lived in New York.
Pregnancy
We started fertility treatment and ended up having our first baby Wilder through IVF. When we were ready for the next baby we were about to start a new treatment cycle, but I didn't get any further than taking some bloodsugar-lowering medicine before I became pregnant with Roxy naturally.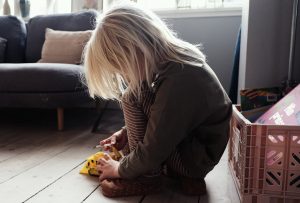 Euphoric about giving birth
Wilder's birth ended in an acute Caesarean section so when I gave birth to Roxy naturally, I thought it was the wildest experience. The euphoria people talk about when they've run a marathon, I had that after giving birth. I felt strange thinking I would never experience that feeling again. But after two children we decided not to have any more. Our ages were against us and we didn't have the energy to go through a treatment cycle again. I'd also had a couple of miscarriages in between, but then suddenly I was simply pregnant with number three. Roxy had just turned one when I found out. We started out with IVF and ended up with a completely unplanned and natural conception. My first thought was 'what the hell is my husband going to say', but we were both really happy! It feels like the family has been completed, it just feels so right having three children. Sometimes life surprises you and this one was one of the best we could ever dream of.
The greatest change was going from one to two children. When you only have one child, it's like having a little friend. We travelled such a lot with Wilder, and Christian often took time off and came along. It's different with two or three children.
Taking time off after the birth as self employed
I've not really taken time off after having had any of the children. I've always worked a little in between, and then my husband or mum or someone else have come along to help with the baby. However, not having taken proper time off has meant that I've been able to stretch the period out for much longer. I've not been so dependent on getting a place at nursery at a particular time. I've had an income which has meant that I've not felt such a pressure to return to work. The flexibility of my work means I've been able to introduce them to nursery at a slow pace, and I can take all day off on a Friday if we feel like it. I never have to rush back at 10 minutes to 5pm for the pick up and that's a huge luxury. I've not taken them to baby-swimming classes, but on the other hand they've tried lots of other stuff – they'll learn to swim eventually.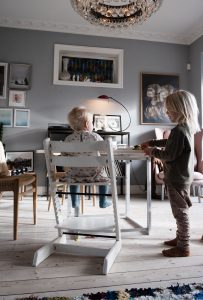 Many people had said that they think it's great that I've brought my baby along on shoots. I've worked with American clients in Denmark and there once was a woman who had a little baby she'd left behind in the US. When she saw that I'd brought my baby to the shoot, I could see she thought 'what the hell am I doing? Why have I not brought my child along?' But that's quite clearly a cultural thing. They have time off for three months and then it's back full-time. It's always been a given to me that I bring my children on jobs abroad.
Marriage
It's been demanding for my husband that I've been able to make the choices I have, and he's always been very adaptable. It's meant everything that his job has been so flexible. In our everyday life, it's mostly me who looks after the children and I do both the drop offs and pick ups. We also have both my parents and Christian's parents who can help and my sister lives just down the road. Two of my children and one of hers are at nursery together, and my son is starting school where his cousin goes. It's really lovely.
Career
I still have many career ambitions, but I don't feel I have to travel the world tomorrow. I've done that. Had I started my career with young children, I might have had the feeling that I couldn't afford to say no to some jobs. Today, I'm not afraid to say no and that's a huge privilege. I ended up having my children later in life so I have to look at it from the positive side, haha. Things come and go, both with or without children. You'll lose clients along the way whatever. But the fact that I have already established my career and done a lot of the stuff I wanted to do, that means I don't worry as much.
Bringing the children along on jobs
Having three children now means we've had to change the structure somewhat in regard to travelling. I can't travel without the youngest, and I'm limited in how much I can travel without Roxy. Wilder was probably the oldest when I left him the first time, and Roxy was a year old when I first went away for 1-2 days. I decide on all my jobs and my agent in New York has three children himself so he has always understood my choices and my situation. That means an awful lot.
When I can't take all the children along on jobs, I've made it a tradition that I make small treasure hunts for them. It's mostly Wilder who understands it now. He gets a schedule where I've drawn an aeroplane which marksthe day I'm leaving, and then I've hidden a little something for them to find every day. I draw what they are going to be doing on all the days and they put a cross for every day that's passed. It's a really lovely tradition, and Wilder thinks it's so cool that he's almost looking forward to me leaving. Before the children I easily travelled 150 days in a year, but now I have perhaps 60.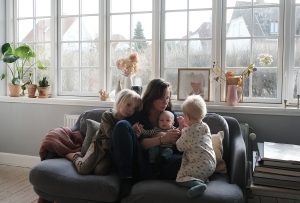 Words Bea Fagerholt Photo Liv Winther.
Translated by Anne Fibiger Wilson
MEET'N'GREET
Photographer Ditte Isager, 42, has the children Wilder, 6, Roxy, 2, and Ziggy, 4 months, together with her husband Christian.